July 1st, 2011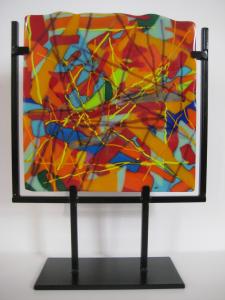 It's been a somewhat perplexing time since February. The economy and the continuous onslaught of conservative social engineering have made a cold west coast summer seem even colder. Art is a luxury for many people and, it seems, is the first thing they strip out of their budgets during bad times. We continue to create with the hope that the economic downturn will upturn soon. I guess that's the "good, bad and ugly" of 2011.

Now for some of the good stuff: The results are in from the VA National Arts Competition. I received a Bronze Medal in Glass for "Warrior Moon in Red" on June 15th. I also juried into the "Arts 2011" Exhibition at the Surrey Art Gallery in Surrey B.C. The opening was last Friday, June 24th. The event was very well attended with a range of art mediums including Painting, Photography and 3-D Sculpture. The piece they selected from my three entries was "Crayola #2." Here's the link to a news article describing the show with photos of some of the works on display (including Crayola #2): http://www.bclocalnews.com/surrey_area/surreyleader/entertainment/124451569.html

If you happen to be in Surrey, B.C. this summer, stop by the Surrey Art Centre and check out the exhibition. The Surrey Art Gallery is the 2nd largest contemporary art museum in Vancouver and well worth the side trip.

I'll be showing in several upcoming events including the Kitsap Arts & Crafts Juried & Open Show in Kingston, WA, the Proctor Arts Festival Juried Show in Tacoma, WA, and the 8th International Acquisitions Exhibition for Artists with Disabilities at the Proctor Theater in Schenectady, NY.

That's the news for July 1st, 2011. I hope to have more good news to follow over the next couple of months. Peace! Mark W. Lubich

February 8th, 2011
With the New Year come new opportunities and challenges. As an artist, finding a balance between creating new works, medical needs and the process of finding venues can be daunting. Do I work on art for the first 6 months of the year and then concentrate on the paper work aspects of entering shows and chronicling my work during the last half? How do I afford out of state shows with the costs of shipping, artist insurance and entry fees? What's the right venue for my work and what artist calls should I avoid? If all an artist had to do was create, with no other demands outside of the art itself, life would be easy. The challenges of getting art out into galleries, juried exhibitions, and museum shows is the most difficult part of being an artist. I have a lot of work ahead of me to meet that challenge and achieve my goals for 2011.

With that in mind, here's what's been happening since my last blog entry in October of 2010. I made it though another surgery in November and have a few more medical procedures scheduled in the coming months. I'm feeling better with my breathing now but my legs still seem to have an agenda of their own. That's the medical news in a nutshell and that's more than enough for these pages! Recent shows have included: "Ae Presents: Hitchcock," a group show that included my fused glass piece titled, "Angst" in Minneapolis, MN; "Art Ability," a group show that included my fused glass piece, "Curmudgeon," in Malvern, PA; "Resident Artist VII- Agents of Orange," a group show that included my fused glass piece, "Crayola II," in Minneapolis, MN; "Queer Me 2011 - Art & Gender Politics," a group show that included my mixed media collage, "An Orange Bison In America," in New York City. Reproductions of my work have been included in two publications: Hektoen International Journal of Medical Humanities and a Zine created for "Art, Aesthetics, Politics, Religion, and Censorship in honor of David Wojnarowicz," a panel discussion and screening of "Fire In My Belly." The pieces chosen to be reproduced were, "Manic Heart" in the Hektoen Journal and "Rosary for a Minority" in the Zine.

The last bit of news is that I'm getting ready for the 2011 Annual VA Art Competition. The show is from 9-4pm on Thursday, March 10th and Friday, March 11th. I'll have three pieces in the show which include: "Warrior Moon in Red" in the Glass Category, "A Night At The Carnival" in the Special Recognition - Physical Disabilities Category, and "Fingers of the Amazon" in the Sculpture or Assemblage Category. That last one could change since I'm not completely done with the piece yet.

To all who read this: Best Wishes for a joyous and successful 2011 and don't forget to support your local arts programs. Your patronage is especially important in the current economic crisis and with so many cuts to arts funding all across the country.

October 13th, 2010
It's been a strange, busy and wacky summer into fall. The journey, as with most things, has been full of many highs and a few lows. I've been fortunate to be in several local, national and international shows but at the same time, have dealt with small bouts of illness and related hospital stays and surgeries. As fall moves towards winter, the last of my medical pit stops should be over so I can concentrate on creating new fused glass sculpture. As far as the highlights, there have been many. I've participated every month at the Art/Not Terminal Gallery in Seattle, an all volunteer, open gallery that features some very talented and award winning artists. I've won awards at several local shows as well as one national exhibit. I took 1st and 2nd place in sculpture at the 2010 Kitsap Arts and Crafts Festival in Kingston, WA. I won two 1st place ribbons at the 2010 VA Art Competition for my mixed media collage work and my fused glass. I received the Peoples Choice award at the Collective Visions Gallery in Bremerton for October. Finally, my work, "Warrior Moon" was selected for a Purchase Award in the Americas 2010 All Media Exhibition in Minot, ND. "Warrior Moon" is now part of the permanent art collection at Minot State University.

Currently, I'm showing in "Art Ability 2010/2011" at the Bryn Mawr Rehab Hospital in Malvern, PA outside of Philadelphia, "Ae: Presents Hitchcock" at the Altered Esthetics Gallery in Minneapolis, MN, "Narrative Animal Imagery" at the San Luis Obispo Museum of Art in San Luis Obispo, CA, and in the "Five Views" Exhibit in the Boardroom of the Collective Visions Gallery in Bremerton, WA. I also have one piece of fused glass showing at the Art/Not Terminal Gallery in Seattle, WA,

Creating fused glass sculpture and mixed media collage is what drives me to overcome my disabilities. Though I don't produce mountains of work, I do create pieces that address social issues important to me as well as the joy and wonder of living a full and strangely wacky life. I've been hugely lucky this year as my voice, which is my work, has managed to be heard all over the country. Whether it's a whisper or a scream, it doesn't matter. What does matter is that I've created something which resonates with my passions.